At Spectrum DNA we specialize in delivering complete customized bioinformatic solutions.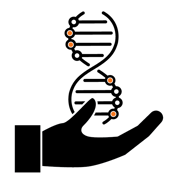 • We customize or develop arrays to meet those specific needs.
• Next, we brand our DNA collection kit with your information, produce your kits, and store them at our facility.
• You market and sell your new personalized DNA-based product offering. After product is sold, we wait for donor fulfillment instructions to arrive from you.
• We then process your orders delivering your DNA collection kits direct-to-the-donor with complete real-time physical and digital chain-of-custody insights. This value-add gives you, and your customers, the benefit of process security as well as the added confidence that the DNA recommendations they receive truly belong to them.
• We provide your team with the customized results reporting you need to deliver the impactful value DNA supported product recommendations convey.
• Finally, you decide what happens to the processed samples and own all sequenced information.